A circular cylindrical material having radius b has the polarization density where is a given…
A circular cylindrical material having radius b has the polarization density

 where

is a given positive integer. The region
, shown in Fig. P6.3.9, is free space.
Fig P6.3.9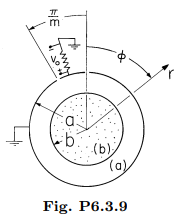 (a) Determine the volume and surface polarization charge densities for the circular cylinder.
(b) Find the potential in regions (a) and (b).
(c) Now the cylinder rotates with the constant angular velocity Ω. Argue that the resulting potential is obtained by replacing φ → (φ

).
(d) A section of the outer cylinder is electrically isolated and connected to ground through a resistance R. This resistance is low enough so that, as far as the potential in the gap is concerned, the potential of the segment can still be taken as zero. However, as the rotor rotates, the charge induced on the segment is time varying. As a result, there is a current through the resistor and hence an output signal

. Assume that the segment subtends an angle

 and has length

 in the

 direction, and find

.