In the region between the boundaries at in Fig. P5.6.3, the charge density is Fig. P5.6.3 where…
In the region between the boundaries at

in Fig. P5.6.3, the charge density is

Fig. P5.6.3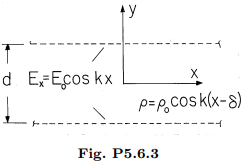 where

 and

 are given constants. Electrodes at

 constrain the tangential electric field there to be

The charge density might represent a traveling wave of space charge on a modulated particle beam, and the walls represent the traveling-wave structure which interacts with the beam. Thus, in a practical device, such as a traveling-wave amplifier designed to convert the kinetic energy of the moving charge to ac electrical energy available at the electrodes, the charge and potential distributions move to the right with the same velocity. This does not concern us, because we consider the interaction at one instant in time.
(a) Show that a particular solution is

(b) Show that the total potential is the sum of this solution and that solution to Laplace's equation that makes the total solution satisfy the boundary conditions.

(c) The force density (force per unit volume) acting on the charge is

. Show that the force

 acting on a section of the charge of length in the x direction
 spanning the region

 and unit length in the

 direction is